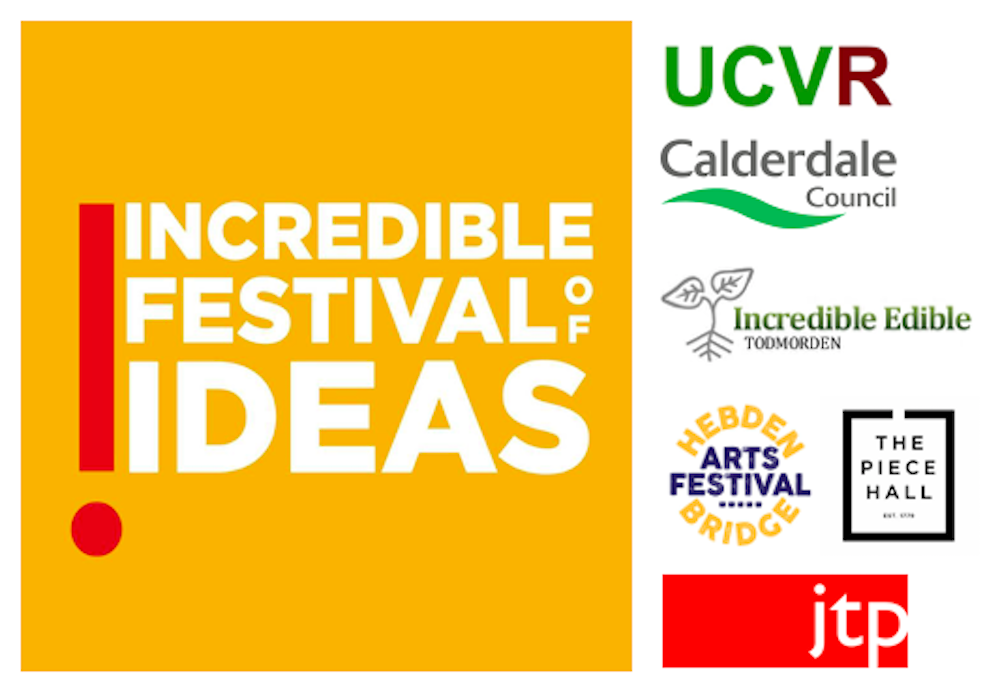 21st – 24th June, 2018
The Incredible Festival of Ideas will be a radical, community festival to which all are invited to join. This is a collaborative community festival across the Calder Valley from Todmorden to Halifax on summer solstice weekend.
The festival will explore contemporary radical ideas in action including urban agriculture, community asset transfer, natural capital, community-led action and decision making, volunteer-led urban development, and kindness-inspired activism. The festival marks 15 years of the UCVR as catalyst for regeneration and community ownership. The festival also celebrates the first ten years of Incredible Edible Todmorden, the birthplace of a global movement of community-building through growing and sharing food.
Over four days of events, the festival will create space across the alley for people to share inspiration, ideas, offer solutions, and to dream and imagine the future of the places we call home. 
The festival themes are:
Placemaking
Resilience
Food
Creativity
Exploration
Kindness
Festival events include: Conferences on the themes of Resilience and Placemaking, with inspirational speakers. Activist Sessions to share ideas, questions and dreams about the future. There will be valley guided walks, cycle rides, talks, feasts and music, to enjoy and celebrate the hidden treasures of Upper Calder Valley together. 
The festival coincides with Hebden Bridge Arts Festival, Handmade Parade and The Great Get Together (in celebration of Jo Cox, MP)
Join in now on Facebook and Twitter!
IFOI on Facebook
IFOI on Twitter - @_IFOI
Full details of all events will be available by the end of April on the IFOI website http://incrediblefestival.org.uk