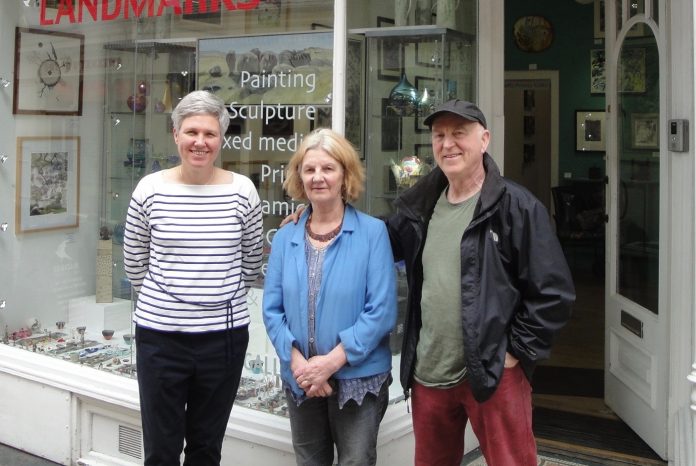 The UCVR Business recovery team, with funding from Todmorden and Calderdale Councils, has launched a mentoring scheme that offers one-to-one support for any local business affected – directly or indirectly – by the floods.
Sarah Moss, of our lead mentor, said "It's a great chance for local shops, manufacturers and other companies to share some of their problems and work on solutions with an experienced businessperson "They'll get new ideas and practical advice to make them more resilient and to help them grow and prosper."
Sarah visits each business to talk through their needs and matches them with a mentor. The mentor and business then meet at least once a month for a minimum of six months, working together to tackle challenges and come up with action plans. Those plans could cover anything from making premises more flood-proof to improving marketing and publicity to win customers.
Rosemary and Mike Holcroft, who run the Water Street Gallery, are one of the first businesses to take part.
"It's so helpful, after six months' hard work refurbishing the gallery, to know we have business and moral support available in the next six months," says Rosemary.
"Having a mentor is an opportunity to talk over business aspects with someone impartial and who has had business experience," says Tansy Dyer, one of the businesspeople helped in the previous programme. "It's having someone to give advice and support."
As well as the benefits for businesses, the scheme offers mentors the satisfaction of sharing their expertise and often helps them in their own careers.
Todmorden councilor Diana Tremayne said: "We recognised that our town's flooded businesses were going to need longer-term assistance. We were happy to respond by supporting this initiative of the UCVR business recovery programme."
And Coun. Barry Collins, Calderdale Council's cabinet member for regeneration and economic development, said they were pleased to be supporting this scheme.
"It will make a real difference to businesses affected by flooding and help to build resilience in our communities."
There'll be chance to find out more about the scheme at the Todmorden Business Network meeting at the Fielden Centre on Tuesday, July 26 at 6.30pm. People interested in taking part can also call 01422 417286 or email info@ucvr.org.uk